SaskTel Business is dedicated to fostering a positive workplace culture and employee experience. But if you want to dig deeper and find out what people really think, you talk to the people in the trenches, the ones who are behind the scenes.

Forbes does exactly that. The acclaimed business magazine surveys more than 10,000 Canadian employees to ask them if they would recommend their own employers to friends and family. Then they produce an annual ranking of Canada's Best Employers. SaskTel is especially proud that it was recognized by Forbes in 2022, for the fifth year in a row.

SaskTel is as diligent about maintaining its high standards outside the Saskatchewan borders as it is within the province. We talked to one of our most recent SaskTel National hires, Justin Zadworny, Director of Strategic Accounts in Manitoba, to see what the experience has been like so far.

Justin, how did you hear about SaskTel National?
Someone recommended this position for me and I figured it's always a good plan to hear what an opportunity sounds like before closing the door. It took me about six weeks and five interviews and then I signed my papers. I started in May of 2021. So here I am working with technology and technology solutions, getting to be a trusted advisor, which is something I really enjoy, helping customers solve problems and build relationships. Now I'm doing it for SaskTel and I'm really excited about the opportunity as far as the amount of growth possibility.

What did you know about SaskTel prior to being approached?
I thought I knew a bit... Saskatchewan government-owned telephone company. But I was completely unaware that SaskTel had such a national and global reach. For years, I've been trying to get my foot in the door in an organization where I can build honest relationships and be a trusted advisor. It's quite difficult when you're with a publicly traded company that is worried about making quarterly numbers again and again. I believe working for SaskTel – and I do honestly tell this to customers – gives me a motivation that is a little bit different and it's more aligned with my personality and my own personal style. Sure we're here to help customers with technology, make money and be competitive in the marketplace, but that's not our exclusive motivation. We're here to really represent the Government of Saskatchewan and to be good stewards of the reputation that SaskTel has. And SaskTel has a phenomenal reputation for customer outlook, customer feedback, and customer opinion overall, which is very rare in the telco world.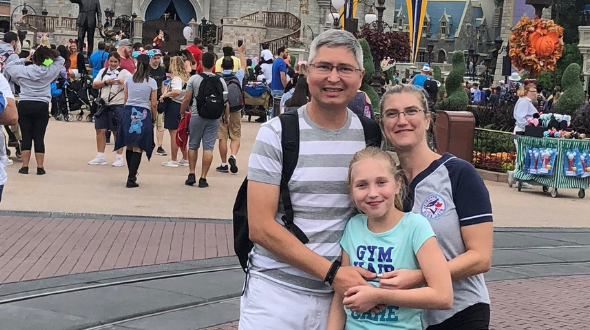 Justin spending quality family time with daughter Lily and partner Tina.
How are you selling SaskTel to businesses in Manitoba?
I tell people how much success SaskTel has had, not only inside the province of Saskatchewan, but internationally. It's a pretty interesting story to tell people that SaskTel has accomplished more nationally and internationally than they have inside the borders of Saskatchewan. That's part of the messaging that I've certainly bought into hook, line, and sinker. My manager likes to tell people that one of our number one customers for our data centre solutions is a organization out of Las Vegas. We've helped with technology projects around the world including running communication lines through the Channel Tunnel between England and France. We've done international work in Panama and Tanzania and in many other countries around the world. I believe it's something like 40 countries around the world on six continents. Our international projects and initiatives are all eye-opening facts that people just don't expect to hear when you tell them you work for the Saskatchewan telephone company dead set in almost the middle of Canada. These are the conversations I'm finding myself in every single day.

Is it a plus that SaskTel is a Crown corporation?
Most people here in Manitoba don't realize that we're still a Crown corporation. Most people here resonate with that very well because a lot of the people that I'm working with still remember MTS and how it was a Crown corporation before it got sold and resold. They remember in hindsight how much more enjoyable the company was at that time. And that gives them a much more palatable understanding and working with the Crown corporation telephone company. They now look back on it and having much fonder memories than they might have with the current ownership. We're the last prairie telco.

What kind of feedback are you getting?
We are having phenomenal success. Customers really like the SaskTel customer-centric model and our local resource based. And as much as there are misconceptions of our portfolio based on our name, try to find somebody who doesn't like SaskTel. It's very difficult. My primary role and responsibility is to deliver the messages, get into those conversations, and I'm lucky enough to have had a career that gave me the opportunity to meet and engage with so many people in the technology world for so many years. Working for SaskTel was really a natural fit.

Would you recommend SaskTel as an employer to your friends and family?
I've already spoken to a former colleague who I think would be a great fit, especially working as a team, and I told him the biggest challenge of this role is certainly not a lack of products, services or solutions, it's about getting the word out and having those conversations. As long as we're confident in what we can and can't do, and we're having those relevant conversations with the right people, we'll be successful. He's basically bought in based on my experience and a few questions he had. He's going to be applying and see where that leads him.

Anything you'd like to add?
I jumped in with both feet and, so far, I give the organization a glowing review.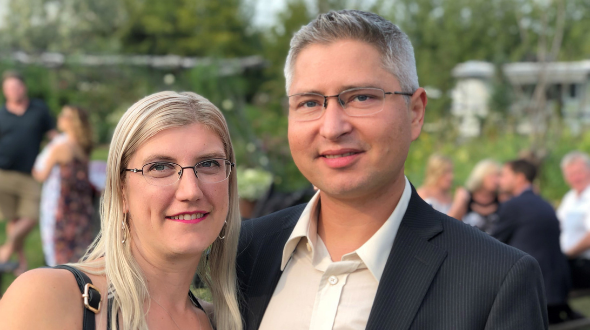 Justin and his partner Tina.

Interested in learning more about what SaskTel has to offer? You can call Justin directly at 1-204-730-5023 or send an email to justin.zadworny@sasktel.com. Or call SaskTel National at 1-844-727-5835 to speak with a sales representative about a solution that's perfect for you.