The musicians create incredible moments before our eyes -- last year, Toby Keith even played an extra set on the second stage. It may feel like spontaneous magic, but what we don't see is all the behind-the-scenes hustle and technology that powers each performance. To find out what it takes to run a major music festival in Saskatchewan, we interviewed Saskatchewan-born Troy Vollhoffer, CEO of Country Thunder, his cousin and VP of Touring, James Vollhoffer, and Scotty Chamryk, VP of Festivals.
What were the best moments at Country Thunder last year?
Troy: The weather was the biggest highlight! When you're blessed with great, sunny weather, magic happens. We had 24,000 happy attendees last year - aiming for that this year, too!


What does it take to run a music festival?
Scotty: It's a ton of work. We're the front-end guys behind the scenes who set up the stages, lights, speakers, and amps.
James: Yes, our biggest accomplishment is pulling everything off! We handle logistics, coordinating all the bands' staging, lighting, and sound requirements, we manage artists, and get them onstage and singing in a timely fashion. Not easy, as bands' touring schedules are super-tight -- they do one show after another. So, if their plane is late or a truck breaks down, we have to deal with it on the fly and shuffle the day's schedule around.
Plus there's an invisible line between Canada and America that might as well be a brick wall.
Scotty: Sometimes musicians or their crew aren't allowed across the border...that's when we really scramble.
James: We're like ducks on a lake...calm on top, but underwater we're paddling hard.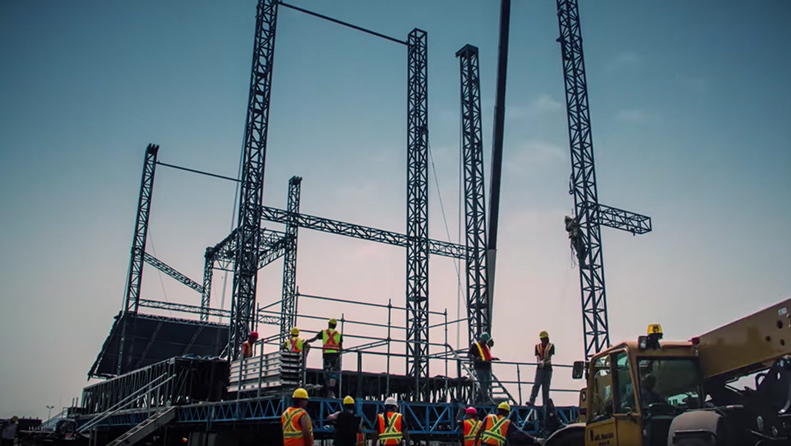 What's Luke Bryan's lighting and sound setup like?
James: In a word: big.
Scotty: It's pretty incredible for bands to bounce from stadiums to festivals. For a big stadium show, Luke will have 20 big trucks full of lighting, sound, and video gear. He could have 100 people including 10 audio guys who travel with his band.
James: At Craven, we'll already set up a basic sound and lighting system which Luke's team then builds on. For our festival, they'll roll in with 4-6 trucks full of lighting, sound, and video gear.

How big is your own Craven team?
Troy: Our Craven crew is over 150 people. Add the service groups, security, and concessioners and that jumps to over 350 people.

What is involved during the set up & take-down process?
Scotty: A headliner's crew might drive all night to get here, then at 8 a.m. their rig arrives ['rig' means all their gear trucks]. We'll load all their gear in and set it up in a day. We'll prepare the stage for the first band in late afternoon, followed by one band after another. The headliner goes on last. Then the crew will strike everything overnight and move on to the next festival. In and out, super fast.

What are the biggest hurdles you have to overcome?
Troy: Without great Internet service, this festival would be an insurmountable challenge. Getting steady, strong, reliable Internet service in a valley is difficult but crucial, and it's SaskTel who supplies it for us. Here's why: for every band you see onstage, all their lighting effects have to be linked to the Internet because they're triggered by online services, so you need strong, reliable Internet.
Scotty: The Internet powers everything from lighting consoles to sound consoles. We're leaps and bounds ahead of the old music festivals. Each light is a little computer now. Now, using the Internet and hotspots, we can log into the lighting rig remotely to address issues and update software. If there's a tech problem, I can bring my best guys to the table, no matter where they are in the world. It's amazing.
James: Internet is an integral part of the infrastructure. It's a big chess game and everyone-- band managers and production managers -- is clamoring to get online to promote and plan their next show. Their job is to plan ahead with their advance sheet that has their sound specs, lighting specs, dressing room requests, local labour requests, and staging requirements.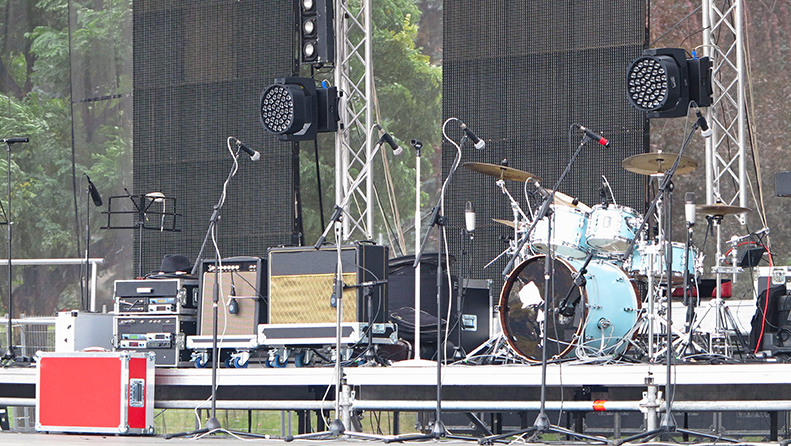 Can technology prevent festival disasters?
Scotty: Absolutely. Weather's a big concern for these outdoor festivals. Water and electricity don't mix. Water always wins.
James: So we have an online weather station that monitors the weather, and we can log on and look at it remotely from any place.
For example, we have high wind action plans. If the weather station sees the wind getting up to 25 miles an hour, then we fly into action. We remove the vinyl soft goods off stage (printed scrims, big sails), secure the lights, lights go up, we lower the suspended speakers, and lower the video screens.
If the weather station says lightning is going to strike, then we may have to clear the site. The #1 rule: safety first, and we take that seriously.

How do you surprise and delight concert-goers?
Troy: You start with the simple things. We took a venue that never had grass in the infield and planted grass in it! Great upgrade. Plus we paved over gravel roads. Bathrooms have to be well-kept -- you always gotta be on your game. We invested $2 million into water drainage so the site doesn't flood.
As for food, we believe food is just as important as the entertainment. So we have 40 concessioners, mostly restaurateurs from Saskatchewan. We have ethnic foods like Romanian kitchen with perogies and sausages, pizza including Greek toppings. Lots of food joints stay open 24 hours!

Is it hard to talk with your team when cell service is in such demand?
Troy: Great cell service is key when you have tons of people in one area. Imagine 25,000 people on one site, most of them posting photos and videos. So that kind of traffic requires a lot of great cell service. You need cellular independence and that's what SaskTel gives to Country Thunder. SaskTel installed a permanent cell tower on the edge of the campgrounds and venue. That's how we make sure everyone can communicate with each other and the world.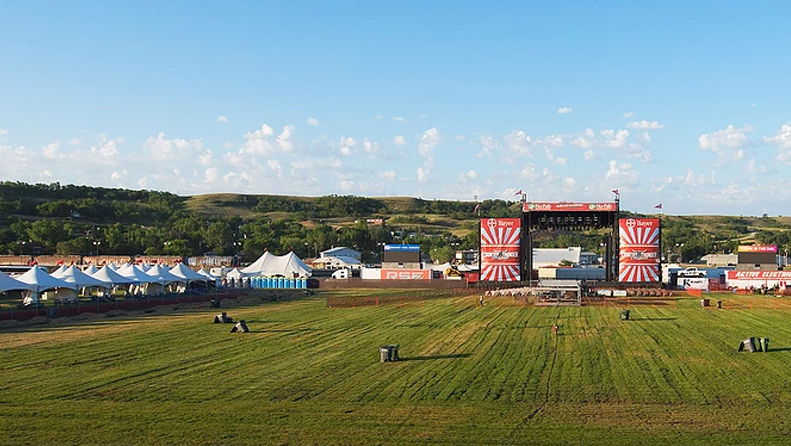 What opportunities are there for small businesses/vendors to be involved at Country Thunder?
Troy: Whatever you're selling, just call our office. We're very pro-vendors, we can accommodate anything and encourage vendors to enroll. We have a big area for vendors: Main Street is 800 feet long, 100 feet wide. It looks like a Western town and it'll be festooned with lights.

Of all the festivals you produce, what makes Country Thunder unique?
Troy: Of all the concert sites I've seen—and I've seen a lot—I think Country Thunder at Craven is the nicest site in North America. It really is the greatest place to be on a summer evening.

What's the best part of running Country Thunder?
James: Every day is a big rush. When the house lights go down, the crowd loses their mind, and the band kicks into their first song—that's the best! If there's a crack in the business, that's the buzz for me. It's the apex of the hard work you did all day long. That's the pat on the back.