Businesses are frequently open for irregular hours around the Easter weekend, and hours are often up to the business owner's discretion. Customers expect that what they find in a business listing is accurate, and the consequences can be big for those that don't adhere. In a survey done last year by BrightLocal, 73% of customers say they lose trust in the brand as a whole due to inaccurate business listings.
There are ten Public Holidays each year in Saskatchewan, including Good Friday. Retailers can open on Good Friday (so long as they pay their employees according to the law), yet hours for each establishment can vary based on jurisdiction, type of retail store and personal preference. Given all of these variables, it's no wonder customers might not be sure if a business is open or closed during a statutory holiday.
Customers turn to Google and Facebook to quickly answer their questions; even those that prefer to ask someone via phone call often find the number through one of these two platforms. While it's no surprise that few customers prefer to call a business, it might come as a surprise that the number visiting a business' official website has also fallen. Most customers get their information directly from Google's Search Engine Results Pages (SERP) or Facebook Pages as soon as they type in the business' name.
Both Google and Facebook have cleverly designed their results to display key information (including business hours) without having to click further. This, in turn, has resulted in something called, "no-click searches" – a way of providing answers before another click takes place. (As a side note, these "no-click searches" can be the reason you're seeing a decrease in click-through rates to your website and overall website traffic… but that's a whole different article).
Let's use our favourite pizza place as an example. After searching for the restaurant, we know instantly that it won't be possible to satisfy our craving until Tuesday at 4 pm. 😔There was no other action needed after searching by business name – no call, no extra visit to the business website. Everything we needed to know was presented to us in the search results. And this is how most customers are getting their questions answered. Quick, simple, and up-to-date… right?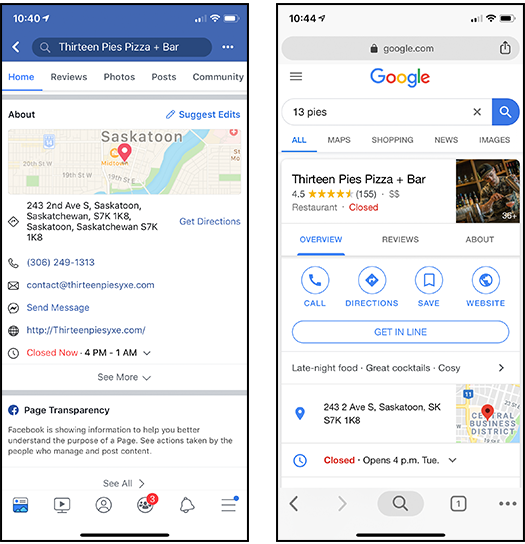 This is where it's key for your business to ensure the information is up-to-date during Public Holidays or Special Hours. The good news is that adding Special Hours to your Google Business listing and Facebook Pages is straightforward and quick to do! We've compiled some resources to help you along the way.
Happy long weekend!

GOOGLE BUSINESS
Adding Holiday & Special Hours to a Google Business Page

FACEBOOK

While Facebook doesn't have a "Special Hours" feature, you can still change your regular hours by following these steps: