The COVID 19 pandemic may have forced everyone to embrace working from home, or did it merely hasten inevitable changes to the modern workplace? Sweta Chauhan recently recounted the steps leading up to the development of the Work From Home Bundle and her long-term expectations for the product.
What inspired the Work From Home Bundle?
In March of 2020, we were hit by the COVID 19 pandemic and we were all sent to work from home, at least a large portion of the province that were able to remotely work. When that happened, we started thinking about what we could do to help our customers. When someone is working from home, the home internet is being shared by all family members and this leads to a struggle with the speed, especially when lots of homes were also juggling remote learning and family members also working from home. And there are often times when the connection may get interrupted. We said okay, we need to come up with a product that is suitable to the current times and needs, that uses existing products that we can bundle and offer to our customers, so the Work From Home Bundle was born.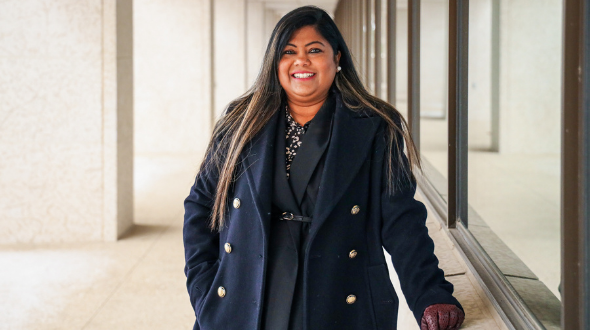 How did you decide what to include in the bundle?
We asked ourselves a lot of questions. Can we work in an environment which is exactly like our office environment, but at home? What can be done to have that similar situation where you get an uninterrupted internet line and you know that if you are having any trouble, you can call SaskTel customer support?
We decided the key to the Work From Home Bundle would be Business Internet which we provide to the employee's home on a dedicated modem. The three components of our Work From Home Bundle are business internet, our Wireless Backup plan, and Business Internet Priority Support service.

What is Wireless Backup?
If your internet line goes down, Wireless Backup is going to provide an alternate internet connection over SaskTel's cellular LTE network. It doesn't matter if you are in a DSL area or an infiNET area, you're going to get Wireless Backup to ensure your continuity is maintained even when your internet connection is down.
What is Business Internet Priority Support?
By including Business Internet Priority Support in the bundle, you get access to our business support team for troubleshooting assistance. With access to our business support team it ensures your call is routed to the appropriate team to handle support instead of being directed to our consumer support team that would typically resolve any technical issues with your home internet line. In addition to access to our support team, if you do require a service visit to fix your issues you benefit from an eight-hour service level agreement. Having Business Internet Priority Support ensures that your calls will be directed to the appropriate team and that any service calls to fix the issues will fall within your eight-hour service level agreement, which is from Monday to Saturday 8:00 AM to 5:00 AM, you will get a resolution.
Is there more than one bundle to choose from?
The only difference between bundles right now is based on the type of internet available to your employee's home and the speed that you select. The plans available to you depend on whether you live in a DSL or fibre serving area. There may be different levels of bundles in the future.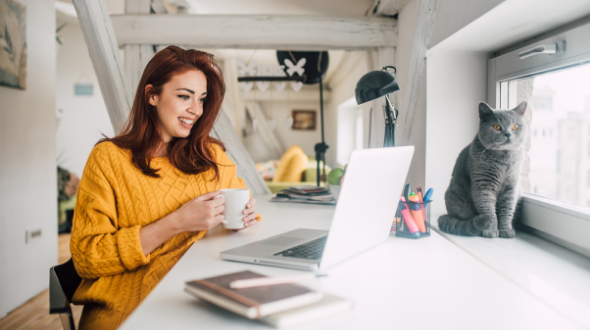 Are there different benefits for the employer versus the employee?
What makes a successful work from home situation is when there is no compromising the quality of output because of the constraint that you're working from home. If I'm working from home, I want to be able to accomplish the same amount of work as I do in the office. That's a benefit for me and my employer.
Employers today want their employees to have the benefit of working from home or continuing to work from home beyond the pandemic. They want to give their employees an office-like environment in terms of technology and support at home to ensure productivity and work efficiency.
Employees want a dedicated internet connection that's not going to be shared with family members. They want to ensure it's uninterrupted and, if something should happen, they want to have technical support so they can quickly resolve issues.
Should getting a Work From Home Bundle be initiated by the employer or the employee?
It can work either way. The employer can purchase this for their employees and have it billed to the business. Or the employee can be billed for the service and then they can get reimbursed from their employer should the business choose to do this.
Is the Work From Home Bundle something we would have without the pandemic?
Work from home is the new normal for many businesses. Certainly, it's not going anywhere until there is a solution for the pandemic. Even after the pandemic has gone and the dust settles, this has opened up new interest and new ways of looking at the work environment. Employers realize that when they allow employees to work from home, there are benefits, and I believe it's opened up the conversation about what the workplace will look like once the pandemic has eased.
I sometimes wonder if the pandemic had not hit us so hard, would we have thought of something like this? I think, at some point, businesses and service providers would have recognized the change in the workplace environment, but it wouldn't have been such a sudden shift.
We are here to support your business needs whether in the office or remote working. If you have any questions about our products and services, please contact your SaskTel Representative, request a callback, or call 1.844.SASKTEL (1.844.727.5835).