Start big, then go bigger!
What started as a pipe dream soon became a reality for Saskatoon Makerspace founder, Devon Plett. He once dreamed of a place where he and his high school friends could have access to tools, in order to create, once school was done. After hearing about the idea of "makerspaces," he took matters into his own hands and opened the first Saskatoon Makerspace which has now expanded to the 10,000+ sq. ft. building it is today. With over 100 members, plus seven shared spaces and 90 private studios being rented out to small businesses and creatives, it comes as no surprise that this was a brilliant solution for Saskatoon visionaries.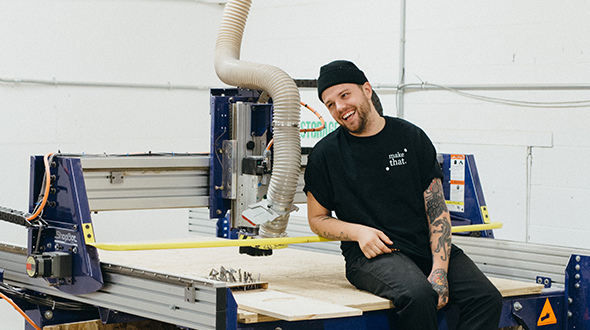 Community at the Core
At Makerspace, you'll find a growing community, open and hungry for new possibilities. With education being a main core value, they desire to challenge the way consumerism is viewed by teaching the process of making, inspiring each other to create freely, and transforming artistic concepts into entrepreneurial ventures.

Tech has played a big role at Makerspace, whether it's been through the team's wireless mobile devices keeping members connected or their reliable infiNET fibre connection ensuring all members have great connectivity throughout the building. They also rely greatly on tech for all their machines to function properly. Graphic and 3D design courses and projects require tools and equipment that wouldn't run without great, reliable internet.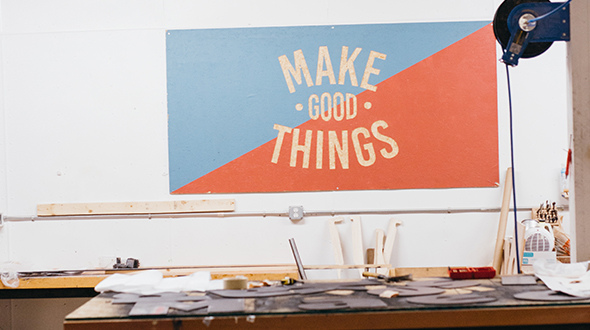 We asked Community Manager, Shanelle Plett, who inspires the Makerspace team?
We're inspired by our local makers and artists. We have over 100 members and they're all doing something so different. It's incredible seeing their process of making, and what has inspired each of them to get to that point. We're also so inspired by the other local businesses that we're surrounded by in Riversdale and Downtown – so many talented entrepreneurs that we're honoured to call friends.

What are the benefits of becoming a member?
There are so many benefits. Members have the option of renting a private studio space, plus you acquire access to all our tools. In order to use each tool, we require all members to take a training course. After that, you're free to use almost all the tools!

Plus you get unlimited access to our incredible community, building connections every time you walk to your studio. The community is really what sets this space apart. Members also get access to our shared coworking space, backyard with half pipe and fire pit, and community garden. Not to mention, unlimited WiFi (thanks to SaskTel)!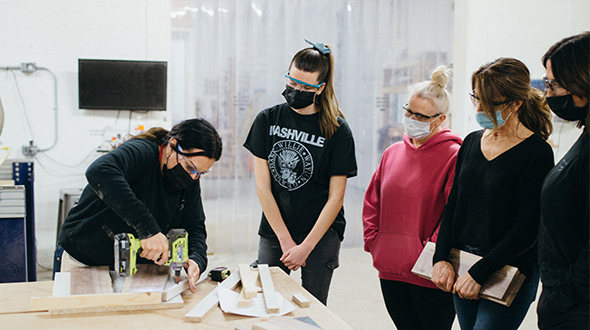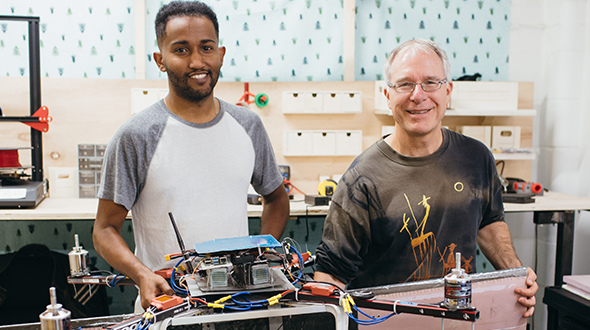 Any tips for entrepreneurs or creatives just starting out that may be looking to rent a space?
Makerspace just makes sense. Especially for the young entrepreneur just starting out. It's one of the more economical ways to start building the things you want to build. We provide very affordable spaces to start with – month-to-month payments and access to all our tools – it's tough to beat. Best tip... find a community of people, specifically other entrepreneurs or makers, that can support you. Becoming a member at Makerspace could surround you with all of the tools and education you need to bring your business to life.

Some of our newest members are starting a microbrewery right here in our very own building. We also have members who are leather makers, artists, wooden jewelry makers, coffee roasters, concrete home goods creators, clothing designers, blacksmiths and so much more. We just want people to know that we're here to support you and push you towards your goals, together… as a team.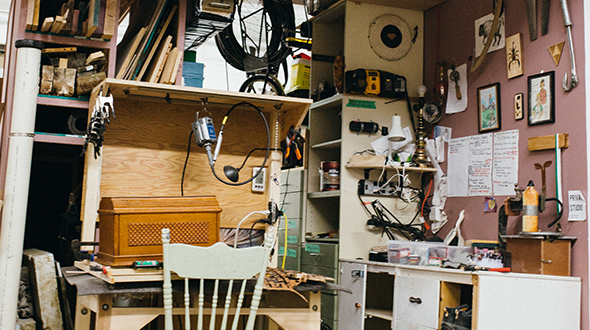 What's next for Makerspace?
Our goal is to expand and offer even more tools, space and opportunities for the community of Saskatoon. We will continue to provide these things and promote health and creativity through our programming. If you want to know more about us, we invite you to come on Tuesdays at 5pm for a free tour of the space, where you will be able to ask our staff members any questions you may have about Makerspace and what we do. You can also check out our website for all our monthly classes and for more information.

Address: Saskatoon Makerspace - 209 Avenue D S #130, Saskatoon, SK S7M 1P8
Makerspace Tour: Tuesdays at 5pm
Open House: 1pm-3pm every Saturday
Phone: (306) 291-6494
Email: hello@saskatoonmakerspace.com

Check them out on Facebook and Instagram!