Regina-based brewery and ABEX award winner, Pile O'Bones, is most well known for their locally crafted beers and deep Saskatchewan roots. One can't help but notice Pile O' Bones' (the unofficial name of Regina) love of Saskatchewan, simply by just hearing their name. The entire ownership team was born and raised in Saskatchewan. When they joined forces to create one-of-a-kind craft beer, they knew their name needed to be a reflection of where it all began.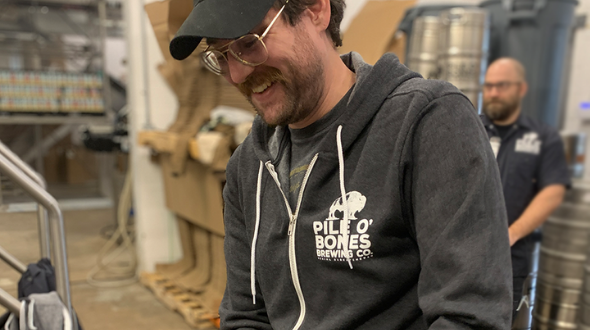 From their name to their branding, it's easy to see the heavy Saskatchewan influence. Each uniquely designed can consists of an iconic Saskatchewan element, from grain elevators to prairie sunsets to endless blue skies. Their Saskatchewan ties don't end at just their branding. The delicious craft brew inside each can is made from superior barley grown right here in our province.
What started as craft brewing out of a basement location on Scarth Street in Regina led to the move to a larger brewing facility and taproom on Saskatchewan Drive. Moving to this new location allowed them to not only create their own identity in the craft beer market but has increased their production by 800%.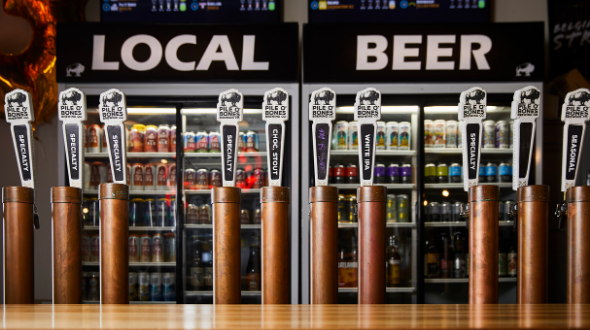 In the taproom, along with their core lineup of beer selection, they also offer a unique selection of seasonal beers. Their head brewers (who are also owners) were homebrewers for many years before beginning Pile O' Bones. Many of their core and seasonal beers come from tried-and-true recipes they have perfected through their years of experience.
But their selection of craft beers offered in the taproom doesn't stop at what they brew in-house. "Craft beer in Saskatchewan is a community, not just an industry. We personally know every single locally owned brewery and distillery, and we choose to showcase the best and brightest that Saskatchewan has to offer," states team member Kristin. They are proud to feature Saskatchewan-based beers as well as wines and liquors, all within their taproom. But if it wasn't created within the province, it's not something you'll find offered.
Pile O' Bones has always been eager to keep connected to the craft beer community as well as stay up to date on technology practices that will help improve their business. They use extensive amounts of technology in both the taproom and the brewing process. In the taproom, Pile O' Bones utilizes Digital Pour which keeps them on track in terms of keg inventory, consumer feedback and showcasing their 32 taps. It also integrates with their point of sales system for optimal convenience. When visiting the taproom, you'll notice you won't find a paper list. With the beers constantly rotating, it just makes more sense for them to have a digital menu. Pile O' Bones ​brewing process also heavily relies on technology, they are also proud to utilize a fully automated brewhouse. It allows their team of brewers to express their creativity with consistent and replicable results.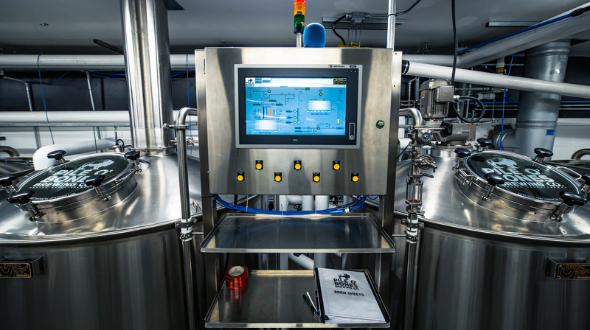 For a company that was already familiar with using technology for business, it was no surprise when the pandemic hit, they knew where they needed to focus their energy. Pile O' Bones no longer had a bustling taproom full of people; they had to adapt to the new rules. A quick shift led to utilizing various forms of technology and relying on their SaskTel Business Internet. Having a stable connection was crucial as they built their web store ​and ensuring that their site was always functioning and available for customers to contact and purchase from them. This allows them to both sell their locally made products and have them delivered. They wanted to make things super user friendly so their customers could still enjoy their products, even in these strange times.
Aside from their seamless process and an incredible assortment of craft beers, Pile O' Bones knows the importance of staying connected to their customers, community, and rest of the province. Whether connecting through social media or their website, or simply by stopping by their taproom, they hope to inspire people to get a taste of what the world-class alcohol manufacturers right here in Saskatchewan have to offer.