After years creating and fostering relationships with their own separate companies, Steve & Bev Kesslering and their nephew Sean and his wife Katlyn Stefan started The Rusty Shovel, opening the doors in Regina for the first time in 2010.
Together, while merging their irrigation and sprinkler companies, they wanted to fill the gap of what their customers were purchasing from them already, and what they needed to purchase elsewhere to finish their outdoor projects. They listened to what their customers had to say, adding countless products to their offerings, growing from irrigation and sprinklers, to artificial turf, lighting, retaining walls, water features, and more!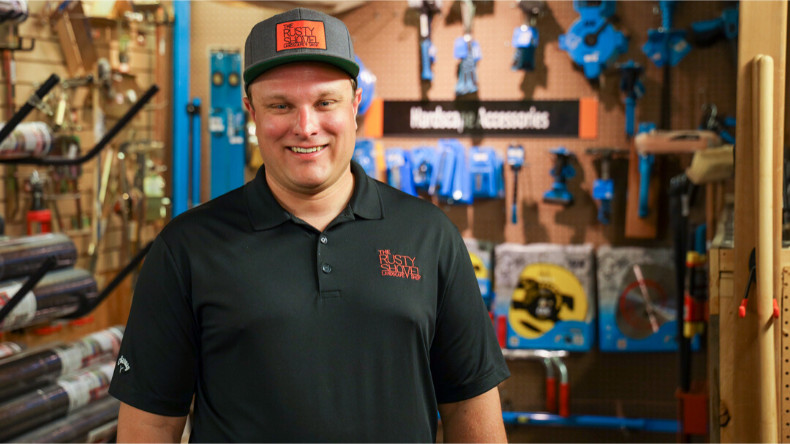 In the last ten years, a lot has changed, but a lot has also remained the same. When they first opened, their team was made up of three employees, Sean, Steve and their Materials Specialist, Terry. Since then a handful of others have joined the team, and many have stayed on board for over five years. The team they've built plays a large role in their success as a business. Customers come back to work with familiar people they've worked with before, people they've built trust and relationships with.
No one at The Rusty Shovel started out in landscaping, but all of them have fallen in love with it. Listening to Sean talk about his staff, the pride he has for the work they do is obvious. "Jesse has designed almost 1000 yards. I am so proud of how good he is at his craft. He is world class talent, right here in Saskatchewan. That's what sets us apart: the value in the idea and the creation."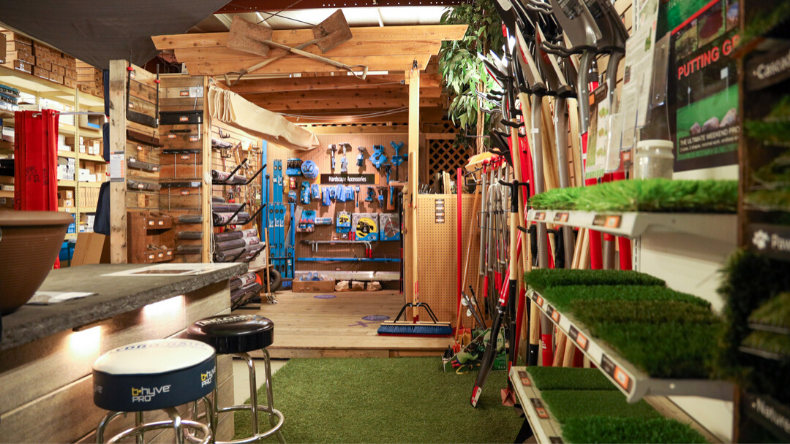 Some customers are only looking for guidance and advice on DIY projects, and others are looking for the big idea, the plan and the execution. The Rusty Shovel provides the same quality and attention to every project. In a regular year, the offseason would be spent creating content for social media—which Sean manages himself as the brand storyteller—planning large projects for the summer, and taking a breath before things really take off in March. This year has looked a bit different for them in light of Covid-19.
With little to no in person meetings, their focus shifted from creating the best retail space they could to refining their web presence. They implemented a self-serve website with a clear list of resources and products for customers to choose from. After upgrading to SaskTel infiNET at their office, they also launched the Simple Shovel Project Quote. This web form allows for customers to upload photos, measurements and videos of their yard for designers to download and quote on with follow ups via a phone or video call.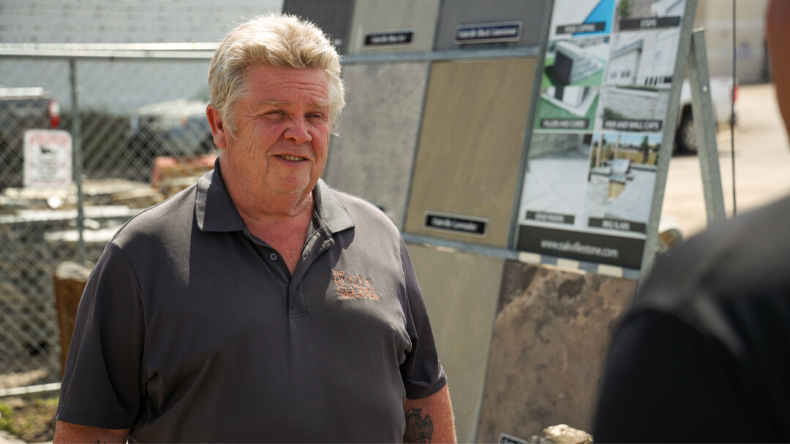 Covid-19 not only affected the way they go about their day to day business, but with all customer interactions going virtual, it also increased their wireless data usage.
"SaskTel relaxing data overages and keeping speeds up has been really big for us," Sean says. Staff have been working at home with other family members and some are hot spotting off phones. "It's something that sounds small, but it's been a huge thing for us to keep up with new leads coming in online."
Sean grew up and then worked in and around rural Saskatchewan, and SaskTel has always been a connection he felt he could rely on. "SaskTel is a Saskatchewan company, for Saskatchewan people." This statement continues to ring true as he reflects on the relationships and connections he's made through collaborations with other prairie built companies. Saskatchewan companies operated by Saskatchewan people are different, they've learned to support each other, rather than work against each other, and that makes them stronger.
The Rusty Shovel family firmly believes that the purpose of their business is to not only be profitable, but to also make an impact in the community they operate in. They provide products to the community garden at the Street Culture Project, products and man power to help complete the yard renovation for the Build Love Project, and both time and funds for Skate Regina and local hockey teams. They truly believe in supporting those who have supported them, and returning the favour as often as they can.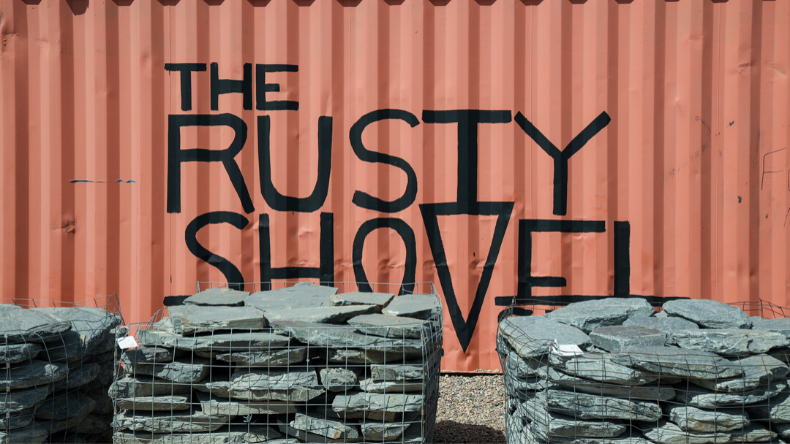 Ten years is a milestone worth celebrating and one The Rusty Shovel couldn't have achieved without the support of the people of Regina and the surrounding area. Reflecting on where the company started and where it is now, Sean's advice to those looking at starting a business of their own would be to lean into the decisions they make, to execute them the very best that they can, and not to dwell on them once they're made. He stresses the importance of weighing pros and cons, but to trust your gut, evaluate as the decision plays out, reflect on it, and move forward.
"There is no fault in having an idea that didn't work out. You make the best decisions you can for your business at the time, but the biggest determination of success is the ability to adapt and improve."