MacKenzie Firus's real middle name isn't 'determined', but it should be. As a budding entrepreneur in Saskatoon, she has pushed through incredible adversity to bring her business to life. This month, PEAK Climb + HIIT Studio is officially open to the public and we wanted to see how this SaskTel Business customer made it happen.
A new kind of workout
MacKenzie offers group fitness classes using upright climbing machines and it's the first studio of its kind in Saskatchewan. Both your arms and legs are used to climb, but it's momentum neutral—meaning that if you stop moving or applying force, the machine stops too. This makes it an ideal choice for those seeking low impact workouts, but since you get what you put into it, it's ideal for high intensity exercise too.
Mackenzie is also a big believer in cross training and full body workouts.
"I had always liked the idea of the fun and party atmosphere of other fitness classes, but to me, it sometimes felt like they lacked a full body workout. I did a lot of research and had heard of upright climbers being used for a full body workout and being great for HIIT [high intensity interval training]. With these climbers, we're able to offer a variety of classes that include HIIT plus other methods so people can have it all at one location. And, the classes we do are music-based. There's lights and the music is specifically programmed to heighten the experience. My clients love it."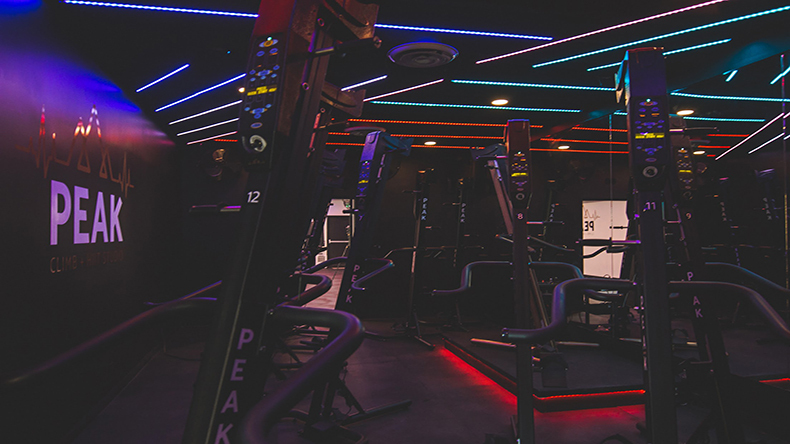 Bringing SaskTel along for the climb

MacKenzie has been a SaskTel customer for over a decade. When it came time to open her business, she needed to ensure she had the technology to support her operations—so it was an easy choice to go with SaskTel Business Solutions. PEAK is connected to both wireless and internet services, and they are designed specifically for the needs of small businesses owners. For PEAK, the internet in particular is everything. Fast download and upload speeds, reliable connectivity, and rock-solid security allow her operations to run smoothly everyday.
"I use the service MINDBODY, and it's basically my online secretary. All of my clients use the app. There, they can book classes, check in, make payments, and more. It's a huge part of my operations. And then social media of course. Instagram is huge for me in sharing the community aspect of my business. I've documented a lot of what has gone into launching this business and I feel like my clients are right there with me."
A love of fitness put to the test

MacKenzie grew up in Saskatoon. She began working at the front desk of gyms when she was 16 and eventually became a personal trainer with a growing list of clients. However, everything came to a halt when she was diagnosed with Hodgkin's lymphoma (a type of blood cancer) in 2013.
"I was diagnosed when I was 23. Getting cancer really just rocks a person's world—the shock of it is quite intense. Cancer taught me a lot about life. It made me realize that things won't always work out how you want them to. But, you can always try to make the best of it and make it work.
"Treatment can put you through an intense physical transformation, and you almost feel a sense of identity lost. I ended up gaining a lot of weight and losing a ton of muscle mass. When you battle cancer, you deal with some serious things—depression being one of them. For me, I was really lacking motivation, so I credit group fitness with giving me my motivation back and helping me eventually regain my strength. This month, I'll be 6 years in remission."
Passion ignites into business

After fighting cancer and benefitting so immensely from group fitness classes, MacKenzie wanted to use group fitness to help others because it had helped her so much through trying times.
"I actually never wanted to be my own boss. It was never my intention. I'm actually a teacher full time. I had a really great trainer and boot camp I was attending. I loved it so much, but the trainer ended up moving away. I really wanted to maintain that sense of community and keep the classes going, so I started to lead them. It started as such a passion project, and never a business idea. Which, I think why it's been successful. It organically came to be out of a genuine care for people's fitness and health."
Moving forward as an entrepreneur

"My Dad owned a business growing up and he definitely encouraged me to just take the risk and go for it. To be honest, opening a business was way harder than I thought it would be, and it's not for the faint of heart. But I've had a great network and support circle helping me, like my consultant at WESK who helped lead me in the right direction."
But MacKenzie warns that the plot thickens when it comes to readying a space for the public. Any type of business—whether restaurant, retail, fitness studio, hotel, etc—has their own specific coding requirements: everything from the number of parking spaces, electrical wiring, occupancy limits, and more.
"There are a lot of layers and complexities when it comes to opening a physical location. You might look at a space and feel it might work, but in reality, there are many things to take into account. For sure do your research—look into zoning and coding requirements for buildings (no two are the same) and know that it has to be something you really want and are willing to fight for. I'd definitely suggest hiring someone at the very beginning of the process who specializes in building code analysis and you'll save a lot of trouble."
A big year ahead

With PEAK's long-awaited launch here at last, MacKenzie will continue to document her journey on social media. This past year, her followers have witnessed an inspiring transformation not only of a space that she gutted from the ground up, but also her spirit as a go-getting entrepreneur.
"This business has been my central focus for the past year and I can't wait to get it started.
I can't wait to meet more people and introduce more people to upright climbing. Hopefully we can get out there and continue to build our community."
To try out PEAK Climb + HIIT Studio, click here! For help on getting your venture up and running, SaskTel Business Solutions has you covered.