When Chelsey Parker, crafter and maker of Meat Chops Leather Shop, started making beef jerky to fuel her motorcycle trips, she had no idea it would become the foundation of a thriving business, stocked on shelves in three different provinces.
In the beginning, Chelsey just shared her jerky with friends, and from there, her business grew organically as they began asking for more and more. In 2016, she started going to markets, and at that time, she decided to start making her jerky out of a commercial kitchen.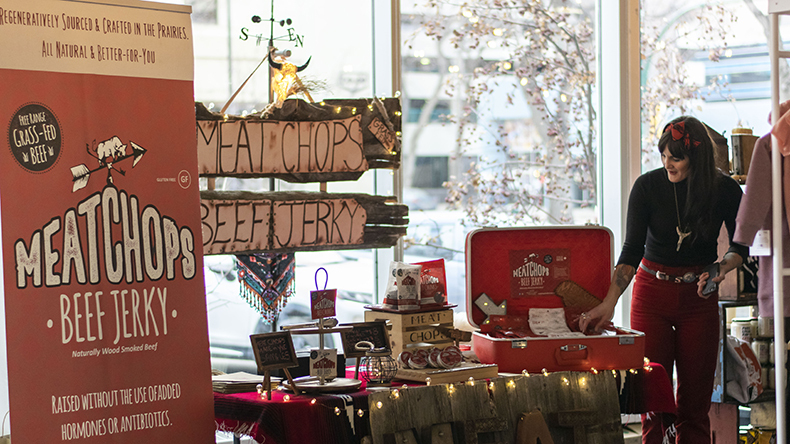 When a large music festival approached Chelsey for a bulk order of Meat Chops beef jerky, it gave her the necessary nudge to seek a larger food processing facility. She relocated production to the Food Centre in Saskatoon, a federally-approved food facility hub, to meet the festival's needs.
She has been working out of the Food Centre for two and a half years, and this opportunity has allowed her to do product testing, verify nutrition facts, and prepare her beef jerky for export across provincial borders. In Canada, any high-risk foods—dairy, eggs, meat, probiotic and living foods—must be produced out of a Canadian Food Inspection Agency-approved facility in order to sell outside of your own provincial jurisdiction. The facility has given her access to shared staff and equipment, including large smokers, allowing her to drastically increase production volume and meet the demands of her customers.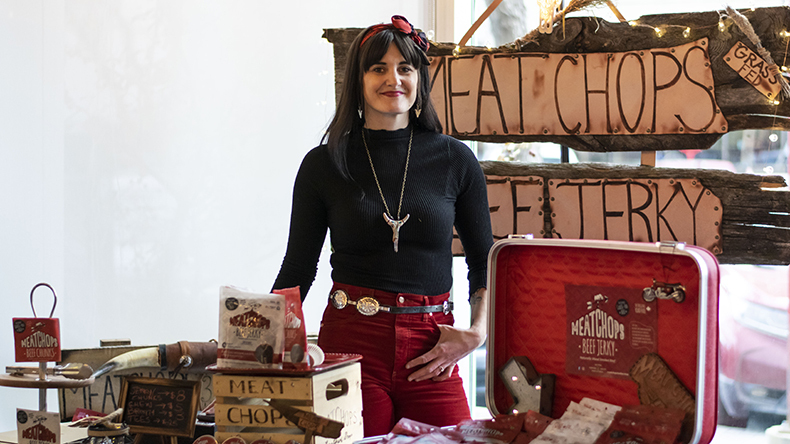 Bringing Meat Chops to life started out-of-pocket for Chelsey, and as demand grew, she sought out a micro-loan and a government grant which helped her grow her business to what it is today. While there have been many challenges to overcome in scaling, the hurdles that she faced just pushed her to keep moving forward and welcome any constructive criticism that came her way.
In addition to beef jerky, Meat Chops Leather Shop also produces custom leather goods, "Eat meat. Craft leather. Respect Cow." is Chelsey's mantra, and it has evolved into advocacy on how beef is sourced for her leather goods and jerky product. Chelsey wants to ensure that the way she sources is thoughtful, ethical, and regenerative. In the past two years, she has gained a lot of knowledge of the meat industry and the current regenerative agriculture movement. Chelsey has a personal relationship with her beef supplier, which is important in ensuring that her product is prairie bred and grass-fed. In addition to making a better end-product, using pasture-raised beef helps to preserve soil health, through animal grazing and regeneration, leading to natural fertilization through their manure. Farmer's Footprint, a docuseries and grassroots movement, has been a big inspiration for Chelsey in learning about soil health.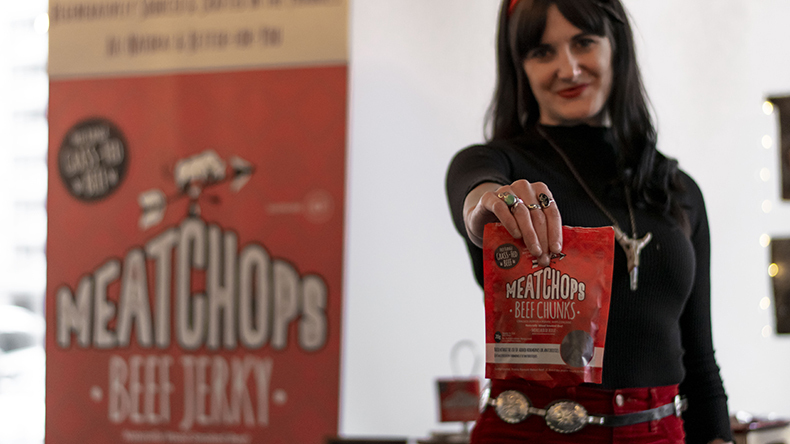 Chelsey also loves to give back to the community. She has a partnership with a school lunch program, providing jerky to underprivileged kids, providing a nutrient-dense product. The program's logo also lives on the Meat Chops Beef Chunks package, with a portion of each sale going towards funding the program.
Having a strong Internet connection and reliable cellphone services is integral to the success of her business. Her cellphone is a key tool in Meat Chops—emails, texting, phone calls, taking payments, and building online connections are all daily tasks that help grow the business, and cannot happen without reliable networks.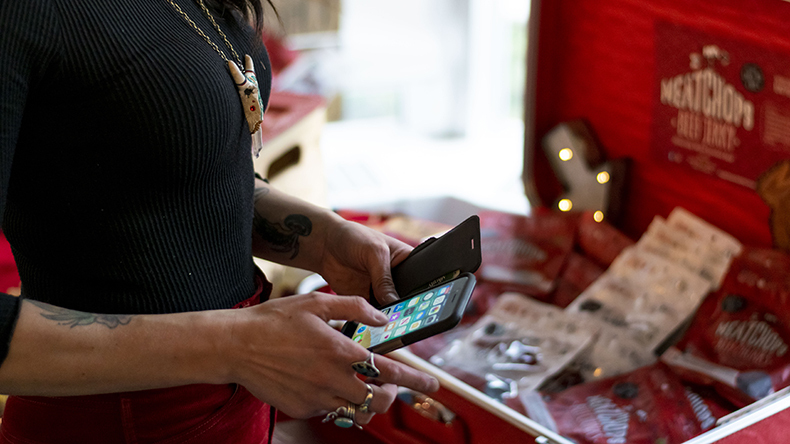 Making connections is a big part of Chelsey's natural approach to life and business. She calls herself a guerilla marketer, and she's on the ground running all the time, doing cross-collaborations with like-minds, musicians, non-profits, and influencers.
Chelsey is a storyteller by nature, so she loves to communicate with her followers. She posts daily stories on her Instagram account, and she loves to run contests for her network, and engage with them daily. While she avoids paid advertisements, she loves creating good, organic content on social media that ultimately allows her to build a human connection with her followers. Meeting her online followers in the real world is a rewarding part of running her business, "I love when I make those connections online, but the best thing is later being able to meet them in real life, in the real world" Chelsey said.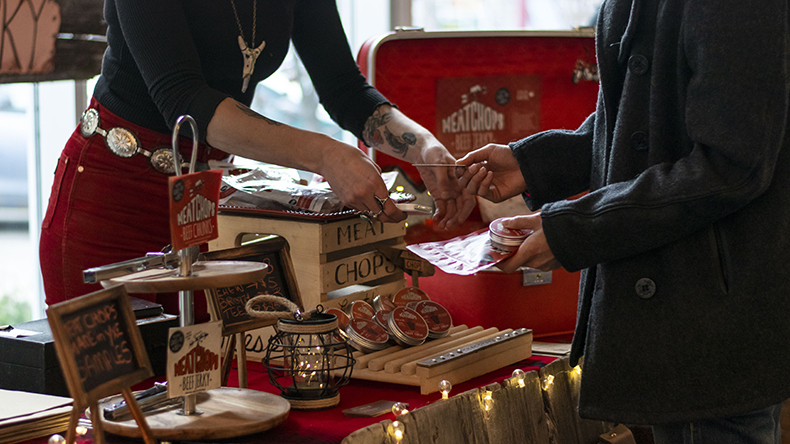 Looking at the analytics of her social media following, Chelsey has found that her following is 60% women, mostly between the ages of 18-40, which was a surprising fact for her. Women in the meat business are fairly uncommon... especially one who rides motorcycles. She has found herself within a network of women who want to support women entrepreneurs, which is an exciting reality of today's entrepreneurial landscape in Saskatchewan.
Chelsey encourages other entrepreneurs hoping to enter the food space to attend lots of agri-food events. It's important to learn from other makers and to meet food producers and growers so you know where your product's ingredients are coming from. Ask questions, meet people, and to tap into a network that you really believe in and share similar values to yours.
Entering the Saskatchewan food ecosystem has been full of trials and tribulations for Chelsey, and because of that, she loves to mentor other food makers who are hoping to enter the space as well. Chelsey understands brand building and what food makers need to do to bring their product to the retail level. She often offers other makers valuable direction and advice in order to help grow and evolve the local food scene in Saskatchewan.