If you're thinking that Greenwave is a brewery, you're not even close. In fact, Greenwave Innovations is a Regina-based technology company that provides data driven energy management and conservation solutions for electricity, gas, and water usage within commercial and industrial facilities. It's one of the industry leading companies SaskTel has chosen to partner with for its ability to deliver IoT products and solutions.

Theirs is a data-driven company in all aspects. While they offer energy management services and solutions to their clients, it all comes from a data-driven process. That's where SaskTel has become a very important part of their business. More and more, they are collecting data, storing it, and using it in cloud-based software. There's no doubt the partnership between Greenwave and SaskTel works both ways.

What all of Greenwave's clients have in common is they want to be efficient and reduce emissions, and they want people to know what they're doing in their processes, all the way downstream, to put out a more sustainable product. "That's everything from how you are transporting more responsibly, and how you are using energy in your offices and your production facilities more responsibly," said Greenwave's Chairman and CEO, Dean Clark.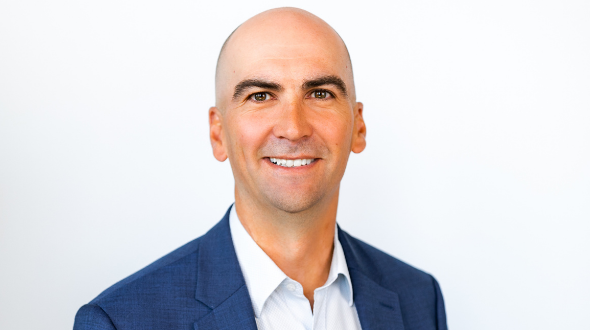 That was the inspiration for the Energy Engagement Dashboard. It's a network of live digital display screens that are part billboard and part real-time news. Some of the time, the displays provide whatever the client has programmed into it. At other times, they offer live energy consumption data and emissions reduction results achieved by the business in easy-to-understand terms.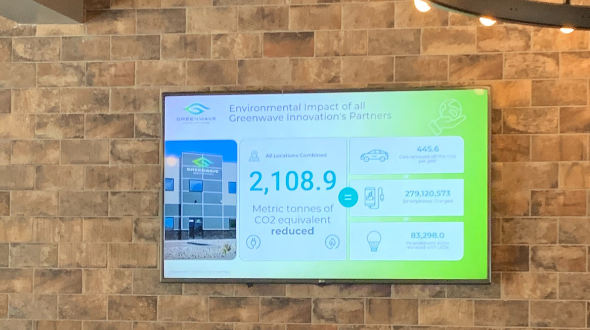 Clark explains, "For the average person, 4000 metric tons of CO2 emissions is just a number, but with our dashboard, you'll see meaningful equivalencies that people can remember and relate to. Gauges and graphs update in real time, accurately showing the emission reduction results in relatable terms, such as the number of light bulbs replaced, or the number of cars removed from our Saskatchewan roads." The whole point is to make the environmental benefits of the organization's energy efficiency practices understood.

These are not simply bells and whistles. It requires real data, real engineering, and real projects that are designed to produce conservation results. "That all has to be there," said Clark, "and we've got the solutions, strategies and processes for that. And now, we have the ability to tell the real-time story instead of burying it in a report. I don't read a lot of annual corporate reports, but I do go into these buildings and I take note of digital screens and real-time information."

Energy Engagement Dashboards are turning up at a surprising rate. That's a testament to the success of Greenwave Innovations and a result of their desire to make sustainability a household word. "If we can help our existing clients tell their story, then we can start to create this network of people that want to be part of it," said Clark. "We can help increase the ambition that will get more corporations and entities on board and wanting to do similar."

Through a partnership with The Regina Exhibition Association Limited (REAL), you'll soon see Energy Engagement Dashboards throughout the Evraz Place complex, including the Co-operators Centre, the International Trade Centre, and other campus locations. You'll also see them start to pop up within other facilities across Saskatchewan.

But what does this all have to do with beer? Well, the first Energy Engagement Dashboard was launched in the hospitality industry, at the Cathedral Social Hall, and featured a countdown to happy hour, daily specials, and upcoming events in addition to Greenwave's efficiency data and environmental information.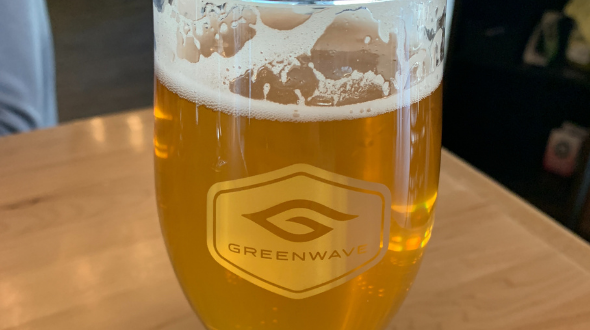 "When we launched the screens to highlight the achievements of the Social Hall," said Clark, "we thought what we should have is a responsible, sustainable brew on tap here." Greenwave approached another client, Malty National, to collaborate. Malty National was already using Greenwave's technology to monitor energy usage and reduce energy consumption within their brewing process, so it was the perfect match.

It wasn't long before Greenwave beer was available, on tap, at this very energy-responsible and deserving restaurant. Matt Dean, the General Manager of Cathedral Social Hall, summed it up nicely: "Our guests instantly connected with the beer's sustainability message and our emission reduction initiatives to make it one of our top sellers."

If you're interested in learning more about IoT and how it may create opportunities for your business, please call 1-844-SaskTel to speak with a sales representative about a solution that's perfect for you.