SaskLander offers detailed property boundaries and permissions that put the control back in the hands of the landowner when it comes to rural private land access. Since trespassing is a growing concern, SaskLander gives the landowners better tools to manage their property and reduce unsolicited access by setting permissions. These permissions are divided into three categories: hunting and trapping, motorized vehicles (ATVs, snowmobiles, motocross, etc.), and leisure.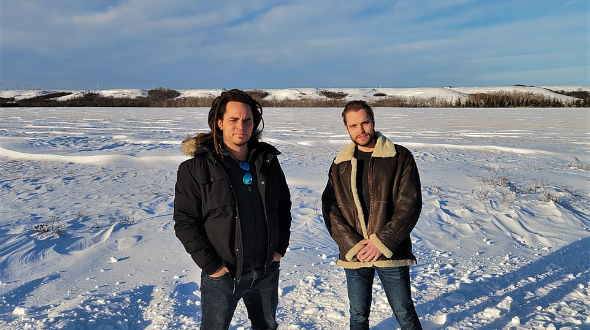 Sauvelm McClean (left) and Aldo Scribante (right)

SaskLander was created in an effort to help reduce trespassing and make legitimate access to rural private land in Saskatchewan simpler and less intrusive. Co-Founder Sauvelm McClean got started in 2019 when Saskatchewan Association of Rural Municipalities (SARM) and Innovations Saskatchewan challenged technology startups, entrepreneurs, researchers, and students to find technology solutions for obtaining permission from rural property owners before accessing their land.

"SaskLander is an excellent example of SARM's ongoing commitment to innovation and finding ways to meet the unique challenges of rural communities. As a result of our partnership with the provincial government, and through the Innovation Challenge, this app was created to allow landowners and operators to take control of land access permissions. As a result, now hunters and recreation users now have an easy way to obtain permission to enter private lands." - Saskatchewan Association of Rural Municipalities (SARM)

This challenge addressed the need for a change to the The Trespass to Property Act; an act based on "implied consent" when entering land that was not posted as "no trespassing." This act has since changed to "explicit consent" as of January 1, 2022. Now, if you want to be on anyone's private property in rural Saskatchewan, you need to have permission to be there.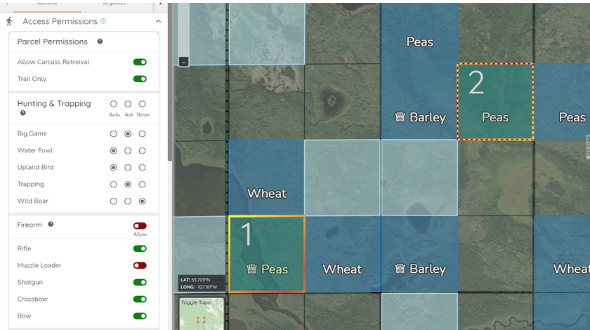 With Sauvelm's expertise in digital mapping, he felt the best solution was creating a map context so the property boundaries were visible to users. Once selected as the winner of the challenge, the next step was developing a prototype. This was when Aldo Scribante joined forces with Sauvelm to really bring his vision to life. After working with Co-Labs during the early stages of their prototype development and running a pilot in Shellbrook, they spent the last year and a half building a scalable version they can grow with. This is where SaskTel came in.

Sauvlem and Aldo knew there was no way their small server at the time was going to support every landowner in Saskatchewan, or beyond Saskatchewan for that matter. Knowing how important it was for them to keep their data in Saskatchewan, they chose to work with SaskTel Cloud Services. Aldo says, "With SaskTel, it's very personal. Having that relationship makes a massive difference." The biggest benefit they've seen is the ability to focus on their business and code development while letting SaskTel handle their IT infrastructure.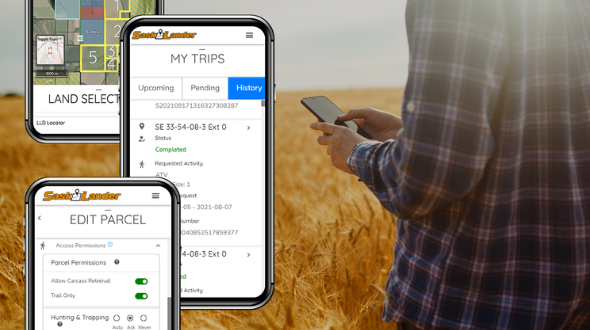 The SaskLander application gives landowners the tools they need to better manage their property. Having the detailed parcel boundaries and permissions puts the control back in the hands of landowners when it comes to land access. With trespassing being a growing concern for landowners, having the ability to state the permissions of your property should help reduce unsolicited access. On the other side of the coin, having these permissions readily available for users such as hunters and snowmobilers makes it easier to access land in a respectful and proactive manner.

SaskLander is working on adding more features to their platform in the near future. Distinguishing points of interest and incident points will allow both landowners and recreational users to determine where other activity is happening around them. With the goal of becoming a risk management platform, SaskLander also plans to flag incidents of vandalism and property damage.

Optimizing the SaskLander platform for mobile is another near-term priority for Sauvelm and Aldo's. Their plan is to create an app that will include support for online access. Sauvlem says, "With SaskTel 5G towers going up and the level of bandwidth you're able to get in rural areas increasing, we are excited to have this level of service because it will help our users immensely."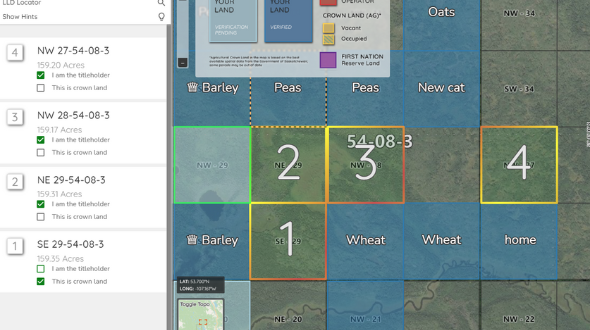 Interested in checking out what SaskLander can do for you as a landowner or recreational user? Check out their website for more information. Or to learn how SaskTel Cloud Services can contribute to your business, please call 1-844-SaskTel to speak with a sales representative about a solution that's perfect for you.