Pedal boards. If you're a guitar or bass player, these words are probably familiar. If you're not, imagine a house without windows or a bakery without sugar. Effect pedals are what enhances the colour and tone of an electric instrument. Having a board to house them on is generally accepted as a necessity—namely when multiple pedals are used, which is most of the time.
Music royalty like The Who, One Republic, George Canyon and countless musicians around the world—guitarists for Beyonce and Avril Lavigne too—are using pedal boards created by Temple Audio Design.
From shipping out a dozen orders a month to now thousands every week, they use SaskTel Business Solutions to bring their products to the world.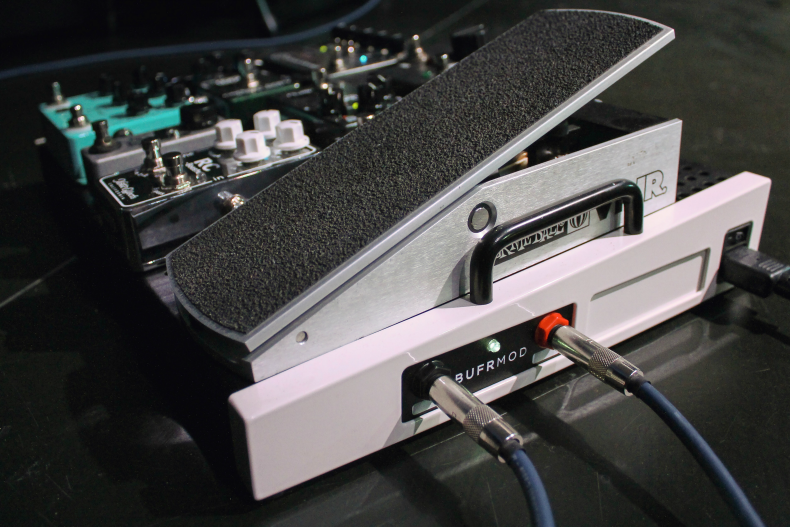 Where it all began
Temple Audio Design has successfully transformed an industrial complex in Warman into a full-blown manufacturing facility. But it didn't start out that way. Cas Bitner, Manager of Sales and Customer Service shared some of the company's history with us.
"A decade ago, our founder [Ryan Dyck] was asked by a friend to build a guitar pedal board with some unique features that weren't available on the market. He was in California at the time and had limited resources. That's where the first prototype was created. His design drew the attention of guitarists in his circle, and he found himself being commissioned to build more and more of them.
"He initially built them out of his garage and in 2012 began doing it full time. The shop started as an old chicken barn. They gutted it from the inside and made it look really cool, but the need arose for more manufacturing power. About 5 years ago we upgraded to what is now our current space in Warman."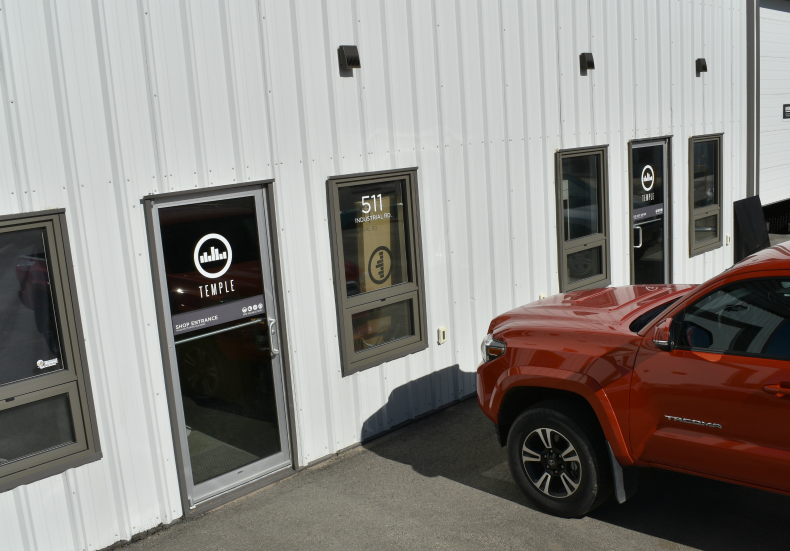 What IS a Temple Board?
The boards are made out of lightweight aluminum. They are hole-punched and then powder coated, ensuring they're chip and scratch resistant. The holes are what makes it unique: they enable Ryan's invention of the quick release pedal plate. The design allows you to attach an aluminum plate with pegs to your effect pedals and then lock them into the board like Lego®.
"When we go to tradeshows and demonstrate the product, we realize that people have seen pedal boards before. But when people see ours for the first time, you witness this moment where they realize how much our system can help them and how it's not a typical pedal board. Our solutions are so simple, yet for some reason have been overlooked for years. People wonder why this hasn't existed before as soon as they try it out. For us, it's amazing to be able to give solutions to artists so they can solely focus on making music and performing live."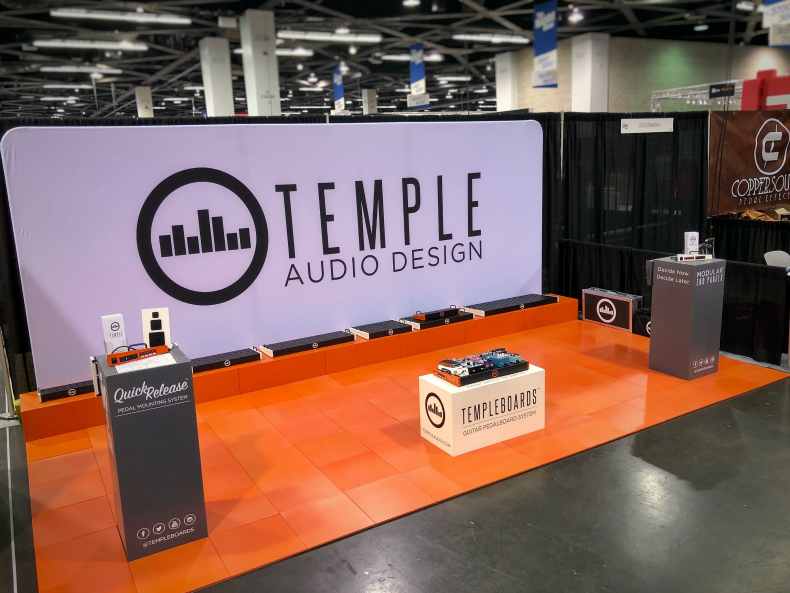 What does it take for e-commerce success?
"We've tried out other [sales] platforms but now we exclusively use Odoo. It's been amazing for us. It integrates inventory, manufacturing, purchasing, time cards, website, shipping management, and more. Everything is through one vein. The only thing we don't use it for is a bit of payroll stuff."
Although Temple does have the ability to sell directly from their website, big retail partnerships with companies like Sweetwater have taken their product global and it's where the majority of their business is. But their recent partnership with Long and McQuade means Canadians are in on the action too.
"We're sending pallets of products to our retailers all the time. We've shipped to every continent except Antarctica and we're continuing to reach more countries every month. We regularly ship to places like Japan, Australia, South Africa, Chile, Israel, Iceland, and all over Europe...basically everywhere."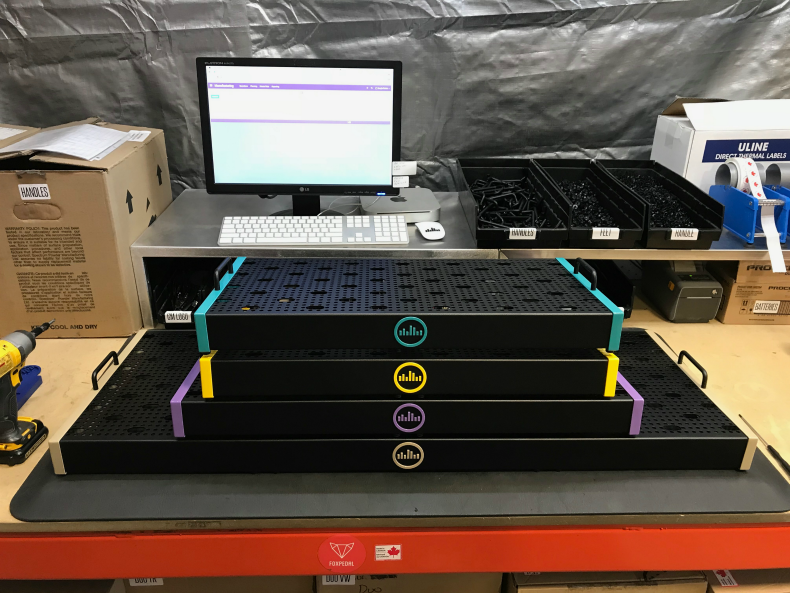 The internet is everything
Temple's grassroot product wouldn't have been what it is today without social media and the power of the internet. Cas touched on the magic they've been able to capture.
"If it weren't for telecoms services, we wouldn't have a business. We've been SaskTel customers for the past 5 years and their services are completely essential to everything we do. Tradeshows and social media are the bulk of our marketing. We're basically using our phones and the internet everyday and always sharing posts when people mention us. It's basically digital word-of-mouth and we love sharing in the excitement with everyone."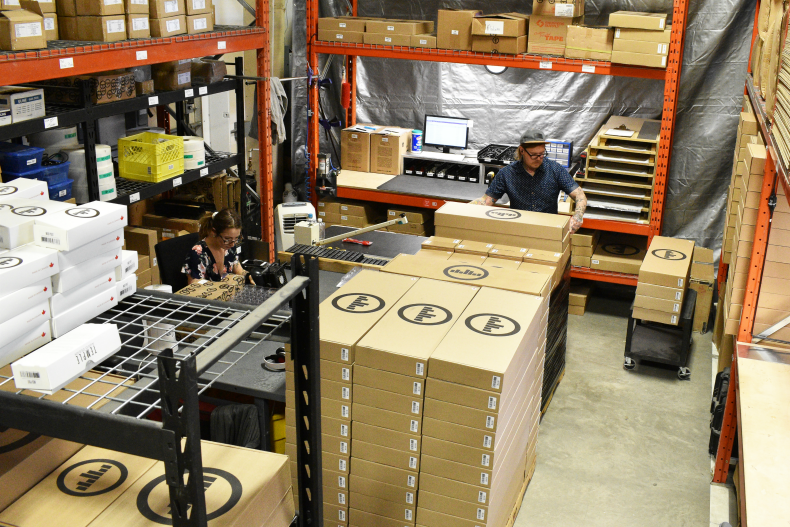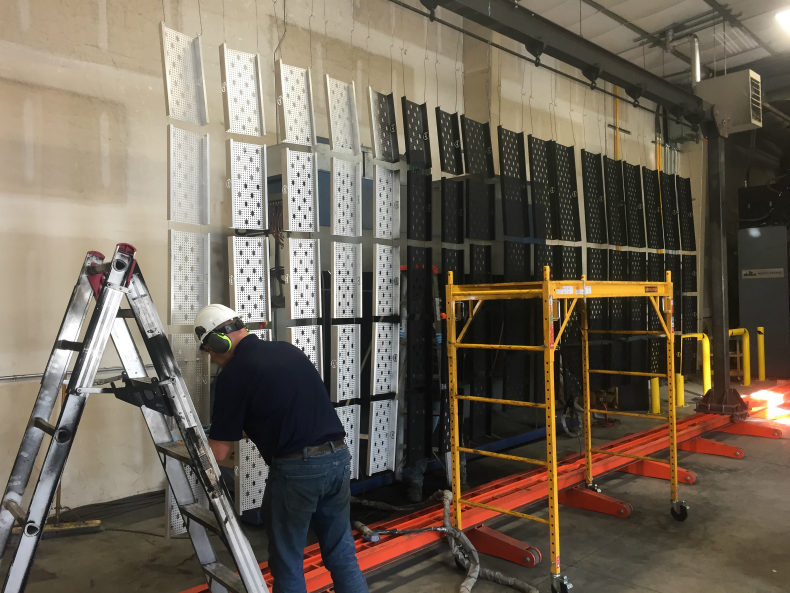 Gratitude and excitement for what's next
More than half of the staff at Temple Audio Design are musicians. Their mandate from day one has been 'from artist to artist'. Cas explained the energy and joy their team feels being so closely tied with the music industry.
"I was a musician for years, so being able to connect with artists I love in this way is truly the next best thing to doing music full time. We're still incredibly involved in the industry, but just not in a traditional way. We're all able to balance our work with family life and still be part of something exciting and unique.
"People in [Warman] sometimes scratch their head when we tell them we make pedal boards. They just don't realize the size of market we're dealing with—basically any electric guitar or bass player on the planet. It's exciting to see where this will go."
To follow in Temple's footsteps and bring your product to the world, explore SaskTel Business Solutions products today!